Huntington's Disease
Definition: incurable, progressive, autosomal dominant neurodegenerative disorder characterised by progressive chorea and dementia, typically commencing in middle age.
Aetiology/ risk factors:
-Genetic, autosomal dominant = extensive expansion of CAG repeat on chromosome 4, huntingtin gene which codes for the protein huntingtin = toxic gain of function of protein
-Leads to atrophy and neuronal loss of striatum (of basal ganglia) and cortex
-Exhibits anticipation = earlier age of onset in each successive generation
Epidemiology:
-Worldwide prevalence is 8 in 100,000.
-Rare in East Asian populations.
-Presents in middle age. Average age of onset 30-50 years.
Symptoms & Signs:
Often there is a prodromal phase of mild symptoms:
Early cognitive, emotional and behavioural changes-
-irritability, emotional lability
-dysphoria (general dissatisfaction), depression
-metal inflexibility, anxiety
–incoordination– progressive fidgeting and clumsiness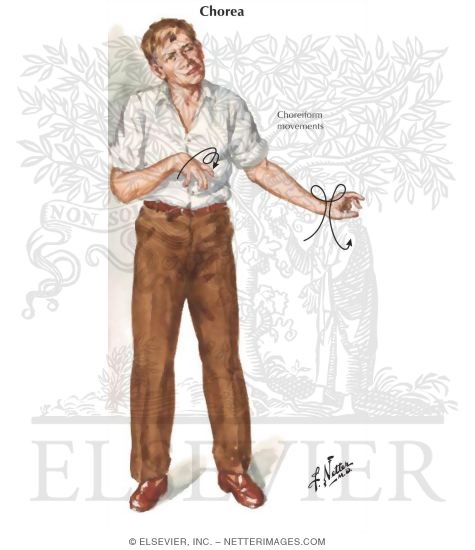 Later:
–chorea = a flow of involuntary jerky movements, flitting from one limb/muscle to another (each seemingly a fragment of a normal movement)
-often accompanied by grunting and dysarthria (motor speech problem)
–dementia
+/- fits
-Patient may become rigid, akinetic and bed-bound in late disease
Other signs:
-slow voluntary saccades and supranuclear gaze restriction
-parkinsonism and dystonia (muscle spasms)-  especially in juvenile-onset disease
-mental state examination reveals cognitive and emotional deficits
Investigations:
–Genetic analysis: diagnostic if > 39 CAG repeats in HD gene.
Intermediate repeat lengths (27-39) exist with reduced penetrance.
–Brain MRI/CT- may show symmetrical atrophy of striatum, particularly the caudate nuclei, and butterfly dilation of the lateral ventricles

–Bloods-may be needed to exclude other pathology
e.g. caeruloplasmin (Wilson's), TFTs, ESR,
blood film (acanthocytes = spiky RBCs- seen in chorea acanthocytosis)
Management: no treatment prevents progression
-For chorea = dopamine antagonists e.g. TETRABENAZINE
–Antidepressants for depression
-Atypical anti-psychotics for psychosis
-MDT approach including: occupational therapist, speech and language therapist, dietician
-Psychological support for patient and family
-Genetic counselling of patient and family
Complications:
-50% of offspring will carry the Huntington's disease gene
-High risk of depression, attempted suicide (28%) and suicide (7%)
Prognosis:
-Death within approx. 15 years of diagnosis, usually from a respiratory tract infection.
References: Cheese & Onion, Rapid Medicine